So. Fifty Shades of Grey. If I am to believe all the Christian blog posts I see, every Christian woman in America is being tempted to go see this film. And if they do it is going to bring on the apocalypse. It all seems a bit overblown, doesn't it? I mean even if this film is as depraved and wicked as the bloggers would suggest, how is it worse than the googlebytes of pornography and erotica already created and seemingly all around us? Will seeing this one film, unless perhaps you are in that group that has never once indulged in pornography or lust, corrupt you that much more than whatever your normal life routine involves? Let's not forget that Jesus condemned looking at a woman with lust in your heart long before the technology existed to capture that woman's image in a photographic reproduction. Lust predates the cinema by far.
Yet something about the warnings and the pleadings rings true. Unlike most pornography, which is still heavily stigmatized in our culture, Fifty Shades of Grey, especially among women, seems oddly acceptable. Partly this is because Fifty Shades was seen as made primarily for women. In our society, we primarily think of sex as a male pursuit, and not as a particularly wholesome one. In fact, much of what passes for sexual content these days is so much about men oppressing and possessing women, that any sexual content created for women that attempts to cater to their desires seems like some sort of relief. Also, since it is largely women that have stigmatized pornography, and have generally held men in contempt for using something so wasteful and self indulgent, the idea exists that anything women can enjoy must be superior, morally and spiritually, to male-centric pornography and fantasy. This grows out of both christian fundamentalist and secular progressive assumptions about the superiority of women (when appropriately exercising their femininity) to men (when over indulging in their masculinity).
And so, the Christian bloggers warn, don't see this film! We know you are sexually unhappy! That your husband's beer belly isn't as nice looking as Christian Grey's chiseled abs! But that's exactly why you mustn't see it! It will destroy your marriage! It will make you discontent! It will alienate you from Christ!
And I suppose it might. Anything might, really, because anything in life can become an "idol" (as the Bible would describe it) and do all those things. But that warning is misleading to those who will inevitably see it, because, to them, it may not do all those things. It might be an exciting movie and lead to an even more exciting night at home with your lover and that might be it. This might lead you to think those bloggers were full of themselves and lead you to disregard more of their beliefs. Make no mistake, some of them are hypocrites who will see the movie even though they told you not to. But overreacting to the film is a disservice to all involved.
You see, for humans, sin is like an addiction. (I can't claim this analogy as my own, as best as I can tell, Dr. Timothy Keller originated it in a 1999 sermon, though I suppose he might say he got the imagery from the Bible). Some addicts — drug addicts, alcoholics, sex addicts — are what we call "functioning addicts," which means they can maintain their addictions while carrying on their lives in a seemingly normal and healthy fashion. I think the majority of humans are functioning "sin addicts." They have it under control. They have their indulgences but they keep them manageable so they don't interrupt their ambitions and plans in life. It's only the ones that lose control and see their life spiral into chaos and destruction that we collectively pity or otherwise condemn as a cautionary tale. The rest we usually admire.
Dominique Strauss-Kahn, the former head of the International Monetary Fund, is now an international joke, not because he is a sexually promiscuous predator, but because he lost control of his habits. He acted out one time too many and lost control of his narrative, and now, people who probably knew about his proclivities and envied him, laugh at him. Even if he survives prosecution he will never again command public respect.
So the most dangerous thing that might happen if you see Fifty Shades of Grey is not that you might cheat on your husband; it's that you might not. It's that you might enjoy it at no harm to yourself, and that enjoyment might send you searching for other highs that maybe you'd been told would be disastrous for you, and your continued success at beating the odds would become so intoxicating that it would become its own drug. Because the worst thing about drugs is not that you might get in a car accident or hurt someone you love; the worst thing is that you give over control of your life to a substance and lose yourself. That is not a guarantee that something cataclysmic will happen to you; its just a bad way to live.
Likewise, sin is a bad way to live. Nothing in the Bible promises that your sin is going to destroy your life. It certainly can; but it is possible to sin safely. It is possible to keep it under control. But God wants you to have more than that. He wants you to have peace.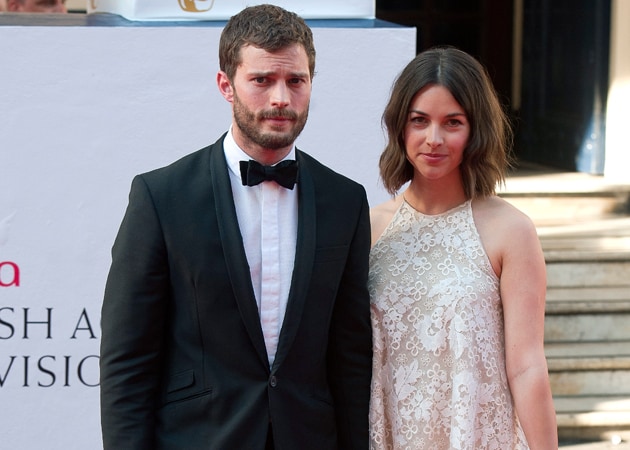 The film's stars looking... perplexed? Rumors persist that neither particularly enjoyed making the film.
Ultimately, if I'm to believe what I've read, seeing Fifty Shades of Grey probably isn't good for you. But it also isn't going to kill you. It's probably not going to destroy your life. And telling people it will do worse than it actually may is as devastating as when Eve believed she would die just from touching the fruit in the garden. She touched it, and nothing happened. Cling to what is true, and make your best judgments from there.